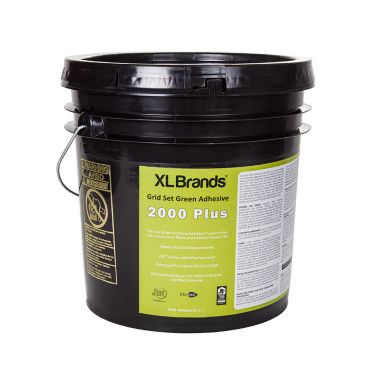 XL Brands 2000 Plus Adhesive - 4 gal
An acrylic adhesive with extremely aggressive tack, XL Adhesive 2000 Plus is formulated to provide high shear and peel strength. This high solid adhesive is non-staining and contains Interface's proprietary preservative, Intersept™, for enhanced resistance to mold and mildew and to protect the adhesive from bacterial and fungal growth.
Used with:
Interface Carpet Tile backed with CQuest™GB, GlasBac™, CQuest™Bio, CQuest™BioX, Graphlar®, Graphlex®, and CushionBac Renew™; and Interface 4.5mm Sound Choice™ LVT
Spread Rate:
3/8" nap roller with an application rate of 350 - 400 sq ft per gallon. Also available in 1-gallon bucket.
Safety Data Sheet
Technical Data Sheet