Take one bold step to reducing your carbon footprint.
Find Out More

Interface Global Headquarters
1280 W Peachtree St NW
Atlanta, GA, 30309, United States
About Interface Global Headquarters
Interface's global headquarters, known to employees as "Base Camp," is an ambitious tribute to the our sustainable and biophilic design principles. From its design to its function, the building provides a holistically healthy, positive, and productive workplace for employees and customers alike. That means targeting both LEED and WELL certification and empowering employees to work however and wherever they please through the flexibility of work choice. Explore Base Camp through the gallery below and learn how we incorporated our philosophies on green building and employee wellness into a truly unique headquarters.
Hours & Info
By Appointment Only
Nearby Locations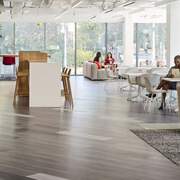 1280 W Peachtree St NE
Atlanta, GA, 30309, United States
Monday: 9:00 am - 5:00 pm
Tuesday: 9:00 am - 5:00 pm
Wednesday: 9:00 am - 5:00 pm
Thursday: 9:00 am - 5:00 pm
Friday: 9:00 am - 5:00 pm
Appointment only
Visit our Americas showrooms to see the latest Interface carpet tile collections and more.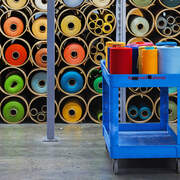 1503 Orchard Hill Road
LaGrange, GA, 30240, United States
By Appointment Only
Troup County, GA is home to manufacturing for all of North and South America. The process begins with tufting at the Ray C. Anderson plant in West Point and moves on to Kyle 1 in LaGrange, where products are backed, cut and inspected before being prepared for shipment. LaGrange is also home to Interface's primary ReEntry® reclamation and recycling facility.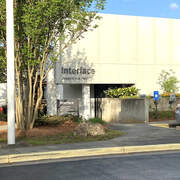 1503 Orchard Hill Road
LaGrange, GA, 30240, United States